Roulette is a game which is very easy to understand and play. Generally, the casino game which is easy to understand presents greater house edge. This is applicable in roulette also. Roulette will be your choicest game:
If you love a game which is easy to understand
If you like a slow paced game
If you are ready to sacrifice on house edge
Roulette game features a wheel and a ball. There are numbered pockets on the wheel. You place your bets on the pockets of your choice. The ball begins spinning on the wheel and stops on a slot. If the ball has landed on the numbered slot on which you have wagered you win the game.
The major variants of roulette are European Roulette and American Roulette.
European Roulette:
Roulette is more famous in Europe than in America. European Roulette features 37 slots. There are slots from 1 to 36. In addition there is a single zero slot. In American Roulette the wheel displays 38 slots with an additional 00 slot.
This single variation has a remarkable effect on the odds in European roulette when compared with odds in American Roulette. The house edge on European roulette is 2.7%.
European Roulette features En Prison rule. Let us consider a situation where you make even money bet at a European Roulette table, and the ball stops at 0. You get half your bet back or your wager is imprisoned. If this imprisoned bet wins in the following spin you receive your original bet. You will not get any additional win other than the imprisoned bet. This rule lessens the house edge of European roulette to 1.35%.
American Roulette: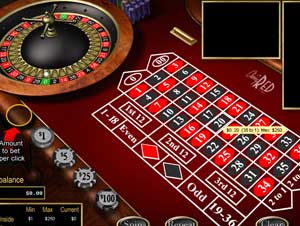 American Roulette features 38 slots in total. There are slots for numbers 1 to 36. Apart from this there are two zero slots. One is a single zero slot and another a double zero slot. The roulette arrangement is spread across the centre of the screen. Bottom left corner displays your balance. This version of roulette is also called by the name "Double zero Roulette". The game offers numerous ways for placing the bets.
You are allowed to bet on:
Single numbers
Combination of numbers
Black or red, odd or even
The different bets offered by roulette include:
Straight up
Split bet
Corner bet
Five bet
Line bet
Column bet
Dozen bet
Every bet is characterized with its own possibilities. These bets make the game more challenging. If you wish to play the game for fun you can attempt any of the above versions. But if you are a real time player wishing to make money it is better that you opt for European Roulette. European roulette features more probability for winning since it has single zero slot.