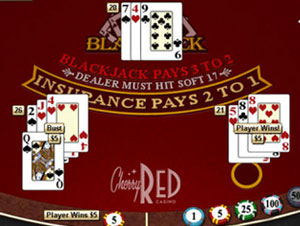 Blackjack is an interesting and easy game. It is also known by the name Vingt-et-un. In French Vingt-et-un means 21. The objective of blackjack is to acquire a hand total nearest to 21 without going beyond 21. A hand which exceeds the total of 21 is called a bust and is a losing hand.
You start a blackjack game by placing a wager. After the wager is placed, two up cards are dealt to you. Following this the dealer is dealt two cards, one is revealed while the other is not and is dealt face down. Now it is up to you to decide to either stick on to the present cards or request for extra cards in order to achieve a hand total close to 21. It is essential to note that total should not exceed 21 and go "bust". Once you have finished the second card of the dealer is displayed. In case the dealer's hand total is 17 or higher extra card is not allowed. If dealer's hand total is up to 16, the rules permit the dealer to receive extra card.
Card value:
cards 2 to 10 are valued as they are numbered
Value of King, Queen, and Jack is ten
Ace can be taken as 1 or 11
Online blackjack terms
Hard hand: This term is used to refer a hand with no ace or with ace valued as 11.
Soft hand: Hand with ace counted as one is called soft hand.
Hit: It is the action of requesting for additional card.
Split: When a hand of two original cards is separated into two different hands it is called split. This action is allowed when the first two cards are of same value.
Even Money: This option could be used where you possess a blackjack and the dealers displayed card is an Ace. Here you can choose to receive even money prior to checking the dealer's second card.
Double down: After viewing the two dealt cards, the original bet can be doubled. After doubling down, a player can receive only one extra card.
Surrender: This is an option of giving up your hand and receiving half of the wager.
Early Surrender: Before the dealer checks his hand for a blackjack you can surrender. This is called early surrender.
Late surrender: Incase the dealer checks the hand for a blackjack and finds a blackjack the player is not allowed to surrender. This condition is termed as late surrender.
Some blackjack games:
Blackjack perfect pairs: In this blackjack variant, you are dealt two up cards and the dealer has one up and one down card. This game is played with six 52-card decks. You win a perfect pair side bet when the initial two cards received by you feature a mixed pair or a colored pair or a perfect pair.
European blackjack: This game consists of 6 decks. The dealer stands on a soft 17. You are allowed to double only on hard totals of nine to eleven. You are permitted to double after a split. You lose the total wager even after doubling down or splitting if the dealer displays a blackjack.